MIIN Member Spotlight - The Gael Offshore Network
For our next MIIN Member Spotlight, we have Ireland's Supply Chain for Global Offshore Wind with Liam Curran, Senior Technologist, Enterprise Ireland.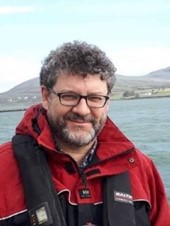 Photo: Liam Curran, Senior Technologist, Enterprise Ireland.
Who are we? /What is Gael Offshore Network?
Enterprise Ireland launched Gael Offshore Network in 2021. This is a Cluster of 65+ Irish companies in the marine sector. We use the tagline "Ireland's Supply Chain for Global Offshore Wind" to emphasise that this Cluster of Irish companies has products and services relevant to the global industry. It's not just for Irish based projects, we want to promote these companies through the cluster so they can establish themselves on a global platform as part of the supply chain network. Together with my colleagues Darragh Cotter, Jack Counihan and Alex Ohlman, we began to look at the possibilities for Irish companies to be part of the UK supply chain. The UK are the world leaders in offshore wind and between now and 2030 there is a projection for something in the region of 3,000 to 4,000 turbines to be installed offshore UK. We wanted to get as many Irish companies as we could involved in this. This ensures that Developers and Tier one contractors in the UK (and indeed in other markets) are aware of the Irish capability and the skillsets available around this industry.
Meet some of our cluster members.
The database of companies in the Marine Ireland Industry Network (MIIN) has been hugely useful to Enterprise Ireland in establishing the Irish capability that can bring relevant products, services and skillsets to Offshore Wind market. We began working on Offshore Wind about three years ago - identifying the Irish capability, exploring relevant markets, understanding the innovation asks in that industry and mapping the Irish capability to those market needs.
Examples of the some of the Irish companies involved in the Gael Offshore Network include XOCEAN, XOCEAN - Offering Ocean Data Collection as a Turnkey Service who have a fleet of uncrewed surface vessels (USVs). The company are working across the globe with their innovative USVs providing capability around areas such as seabed mapping, cable routes to shore, etc.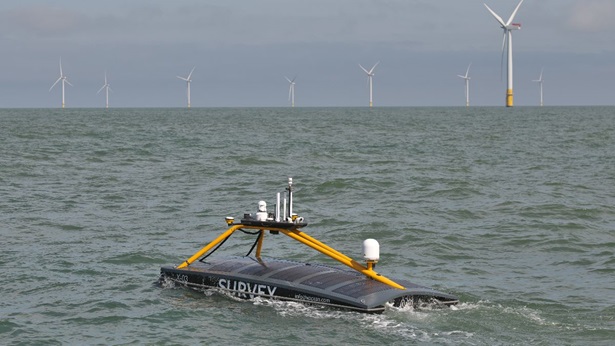 Photo: XOCEAN USV
Meet some more of our cluster members.
Gavin and Doherty Geosolutions are already a global player in geophysical and geotechnical surveys for the industry. They work all over the globe – Vietnam, Taiwan, East Coast of the US, Baltic Sea, etc. Offshore and Marine (gdgeo.com) Another innovative company in the sector is Inland and Coastal Marina Services; Crew Transfer Vessel Berthing - Inland and Coastal Marina Systems . Based in Banagher, County Offaly, the company provide pontoon mooring systems for Crew Transfer Vessels, which transport maintenance technicians to and from the wind farms.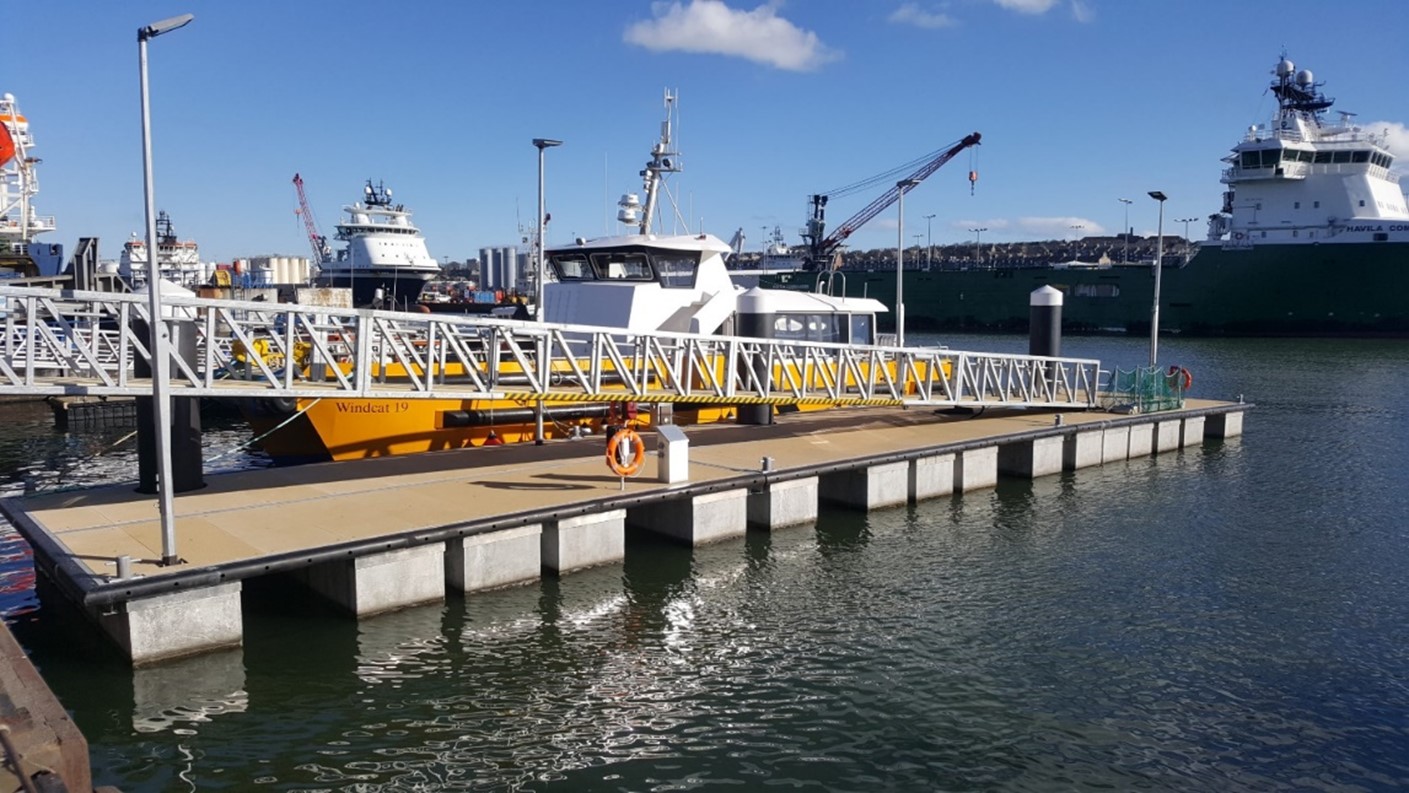 Photo: Pontoon system from Inland and Coastal Marina Services for Crew Transfer Vessels in Aberdeen Harbour
We also identified companies doing civil engineering works around harbour upgrades, such as Roadbridge Seagreen Landfall Works - Roadbridge.ie and ByrneLooby Ports & Harbours - ByrneLooby who have all the necessary skillsets to design harbour upgrades for the industry. Then we have a broad group in the marine engineering space who have valuable skillsets, such as the marine engineering capability in Killybegs. At the moment that capability is focused on the pelagic fishing industry but could pivot to offshore wind.
In addition to the companies working in ports and offshore, we've gotten others on board who would be located onshore and have products or services relevant once the cable has been landed and needs to be connected to the grid – these include Suir Engineering, H&MV Engineering, Gaeltec Utilities and Kirby Group who are all experts in substations and grid engineering.
Why join this cluster? / Value to joining the cluster?
Joining the Gael Offshore Network ensures that any Irish company with products or services relevant to the OW industry is effectively part of a "one stop shop" of Irish capability. External Developers and Tier 1 Contractors can look at this Network and quickly identify which companies are relevant to their needs. Being in the Network also facilitates engagement between companies, helping to foster joint bids for work that individual companies may not be able to bid for. The size of the Network and the fact that it is growing all the time also sends a message to external stakeholders – Ireland has capability in this sector and that capability is growing apace.
In Ireland, a number of projects are at the Development phase, with the Irish Sea likely to see the first construction activity. Arklow Bank and Codling wind farms have committed to building their Operations and Maintenance bases in Arklow and Wicklow ports respectively with both bases providing around 70 permanent onsite jobs each. The operation and maintenance roles in these and other potential sites are typically 25 years (the average duration of an offshore wind farm), so these employment opportunities are very valuable in small coastal communities and can make a huge difference to the economy, particularly on a local level.
The industry also dovetails nicely with an emerging technology that could potentially store surplus energy coming off the units by producing green hydrogen which could subsequently be used to fuel buses, trucks, trains, ships and airplanes. It could also be injected into the national gas grid or sold to mainland Europe - so there are many ways in which the industry can contribute to the decarbonisation of Ireland's energy system.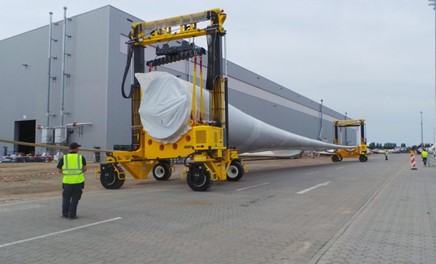 Photo: Wind Turbine blade handling technology manufactured by Monaghan company Combilift.
There are a number of countries which have become experts in certain areas of the industry. At the moment, if heavy installation capability is required, the Dutch and Belgians would be seen by many as the experts. Other nations are specialists in Floating Offshore Wind.
Future Opportunities for the Network? Possible projects for the Network
So, what can Ireland develop that makes Ireland the "go to" place for a particular capability?
We have been looking at those companies to identify what we, as a country, can offer to the industry which is uniquely Irish – and one area of capability in that 60 strong group of companies is Ireland's ICT and digital strength. As projects go further and further offshore, the industry needs connectivity, communications systems, IoT technology and remote monitoring in real time for units which are way out at sea. It is also going to need things like robotics, machine learning and artificial intelligence – and overarching all of these will have to be cyber security because the units are very valuable assets.
Examples of Irish digital companies already getting work in the sector are the likes of Vilicom, who do 4G and 5G offshore communication systems 5G Offshore Networks | Unparalleled wireless network performance | Vilicom .We also have VRAI Virtual Reality Simulation Training with Data Analytics | VRAI (vraisimulation.com) who have developed a Virtual Reality headset system to train Offshore Wind Turbine technicians.
But this will not displace any of the other capability we have around surface vessels, subsea, civil engineering for ports, the onshore sub stations or anything related to the broader Irish strengths, but the digital element is something Ireland has which could be a unique offering to the industry.
EI are working on a number of events to showcase the Irish capability in the Gael Offshore Network to the Global Offshore Wind industry; delegations coming in from the Netherlands, Norway and Belgium are all keen to understand Ireland's capability in the sector.
How to join the cluster?
For more information, please see below:
Website: https://irishadvantage.com/offshore-wind/
Email: irishadvantage@enterprise-ireland.com
Tel: (+353) 1 727 2000